PokerStars, currently owned by Amaya Gaming has announced & released its brand new application for Apple TV. This new application showcases everything there is to do with live poker. All the favourite poker stars you know & love as well as other guest stars will appear on daily poker shows or talk shows via the network. Those whom love poker will find this new application riveting & exciting, providing quality entertainment to all.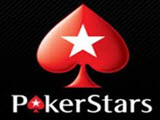 Whomever downloads this application towards will see there are live broadcasts from the "PokerStars Caribbean Adventure", "European Poker Tour" and a variety of other events that are filmed for broadcast television. Every PokerStars World Tour will be showcased live to viewers when it takes place on its yearly date.
This application will be familiar though to all those whom use PokerStars.tv on their computers. This website has been available to many for the year, it can even be accessed via mobile devices. Allowing for the application variant on Apple TV only means being able to view the content in a larger format. There's also no word if the application will be making its way to Android streaming boxes. This should be the case though as out of Android & Apple, Android has been the developer taking the cake for the streaming boxes market.
Anyone wishing to view their favourite poker professionals interact with one another can do so today. All that's required is to download this app via the Apple TV Store or to go on their PokerStars.tv website.