Why you should play Sit'N'Go Tournaments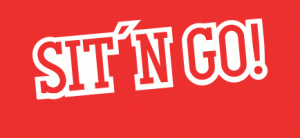 Online Sit'N'Go competitions are extremely well-known because of the convenience that they offer to those players who want to catch a game right away. They offer some great competition at the poker table, are generally less than 180 players, are in-expensive to enter and start the second the required number of players has entered.
Most sit'n'go games will have six or nine players per table and, if playing a single table will pay the top three positions. This is generally divided at a rate of 50% to the winner, 30% to the second place finisher and 20$ to the third place finisher. When you play single table sit'n'go games it is like playing the final table in a big tournament and is a great way to gain skills on how best to play a final table for the future as well.
Another type of well-known sit'n'go games is heads up. This is started the minute two people enter and sit at the table. Each play has a base bankroll and the winner takes all. This is also in-expensive to enter and can a great teaching tool for when you are in a heads up situation playing larger sit'n'go games or tournaments.
Most online poker rooms will offer you both single table sit'n'go games and multi-table sit'n'go games. Multi-table sit'n'go games will include a minimum of 18 players and up to 180 players. Depending on the number of players it will pay up to the top 12 positions. This requires that you play these types of games in the same way you would play a regular tournament as you are competing against many other players versus just a handful.
The most commonly play version of sit'n'go games is Texas Hold'em followed by Omaha. Most poker rooms will offer some other variations of poker for sit'n'go games but generally the standard is Texas Hold'em and Omaha. On average sit'n'go games will start as low as $0.50 and will increase up to $1000.  Having the ability to play low limit buy-ins is a great way to teach you the game and some solid strategy you can apply for when you play bigger games or play in regular tournaments. The sit'n'go game is a great tool that should be used to its fullest advantage but also should be played in order to build your bankroll.
There are some poker sites that also offer progressive jackpot sit'n'go games. These allow you to play in a variety of sit'n'go games and if you win a certain amount in a row will win a jackpot prize that can be worth as much as $75,000.  This is not an easy thing to do but it is also not overly hard to do and why playing sit'n'go games can really be advantageous and afford you some huge paydays.
Make sure you make sit'n'go games a part of your online poker playing on a regular basis. The investment is minimal and the rewards can be excellent. Thy provide you with excellent value for your money.