Review of Jacks or Better Video Poker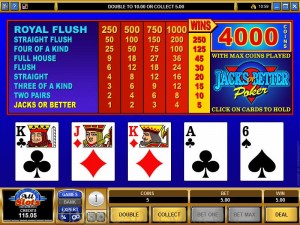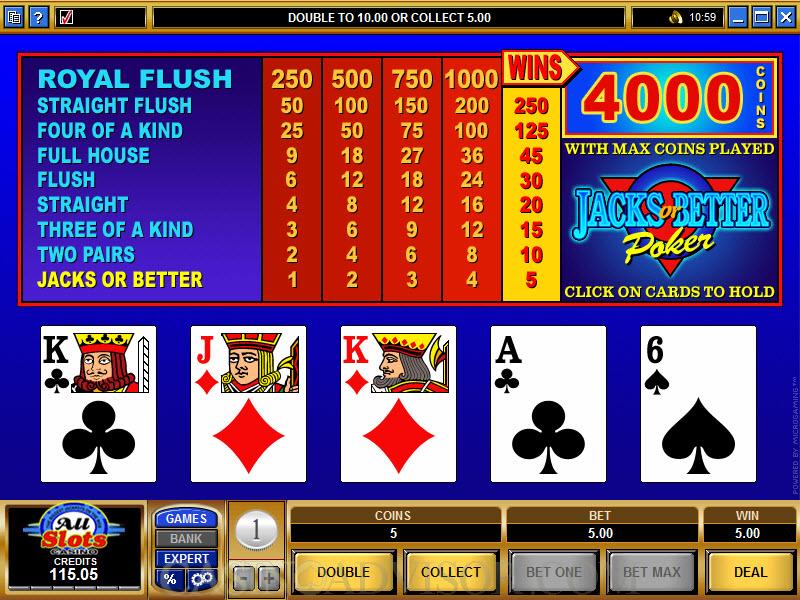 Jacks or better is a wonderful variant of the honored video poke game. This amazing version of online poker is a single deck game that holds 52 cards in the deck. There is no wild card in this version of online poker. Many of software providers for online gambling will offer jacks or better such as microgaming, PlayTech, Net entertainment and of course PlayTech.
First thing is first when playing a jacks or better poker game. You need to choose which coin size you want to play; the majority of people will start of with a twenty five cent bet and can raise the bet to ten dollars if not higher. The lowest you can bet is five cents, At the bottom of the game you will notice a button in increase or decrease your bet you care to play with. With any jacks or better poker game you have the ability to have five coins per hand. You will begin to see that with the more coins you have in hand the better chances you have at getting an amazing payout that'll make all those bets worth your wile. So it's clear that you must always play the five coins per hand option, if you do this'll insure you don't hit any hand that'll pay you a small amount and make the smaller bets give you smaller winnings, go big and you'll win big.
The way the betting works in a Jacks or Better poker game is that it have a plus and minus control. These controls will increase and decrease the number of coins you'd like to use in your next bet in the game. If you were to lets say click and choose bet one than you'd only be betting one unit of the coin size you have chosen. If you were to click the betting max which is what we recommend than you'd be wagering the maximum times of the coin size you have chosen. To put it into more simple of terms if you were to bet 0.50 cents and the ultimate bet you can choose is one dollar, you have 5 units that you are playing than your highest bet would be 50 dollars.
When you first start the game you will click deal to get the cards for you're first hand. Now there is two ways you can play the game, you can choose the Autoplay option which will play the game for you with a strategy or you can play the game yourself with the manual option.
Now we know this looks like a very normal version of the game but there is a twist to the game that can make it very thrilling. If you have won the hand than you can double that hand by challenging the dealer to a showdown. Five cards will be placed on the board with four of them face down and one of them face up, you will choose any of the listed facedown cards and if it's a higher number than the dealers card than you win that hand and you can continue to do that option for as long as your winning.
You can play Jacks or Better at All Slots Casino.