Is Online Roulette Beatable?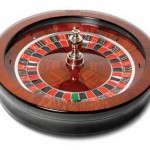 Often I get various requests from people who email me to ask me if roulette can be beaten. It's as if everyone is looking for a secret to success at Roulette and the fact of the matter is one just does not exist. Many websites will tell you that they have the perfect system to beat Roulette and that their system will be able to make you win big. The fact is these websites are just trying to sell you their secrets and it's a waste of your time and money. There all video's that serve no purpose but to make you lose you're hard earned money.
The odds of online roulette casinos are almost the exact same as its land based casino brethren, an American roulette games has a 5.4% house edge while the European version will have a 2.6% edge. The reasons for this being is because the American version has two zero's while the European has one zero, this makes a big difference in the house edge. Both versions of the game has the same amount of numbers on them, so basically unless you are a gambling god you will not be able to find the perfect system in beating roulette.
All roulette games played online are used by a ranger number generating program. All this program does is spinning the wheel till it gets the results. The real time gaming software games are tested weekly to confirm that games are 100% fair and random. So there are no patterns in the program and the results of the game are always random and new. A random number generator is actually a much better system for the game of roulette. You can find that sometimes in a land based casino the wheel is slightly tilted or unbalanced. Sometimes a casino roulette dealer will get a rhythm to how he spins the wheel and it can mean the ball will land on the same number multiple times in one game.
With Google being such a popular searching engine you can find thousands of websites devoted to roulette games and strategy tips. These articles that have strategy tips try to claim that if you use a strategy you can find the outcome of where the numbers will land and which number are best to wager on. The reality is the strategy of roulette is very limited, you can only really place you're wagers where you feel best and make side bets in order to exceed you're profit in the game.
When you go to play online roulette you should just throw out the idea that you are going to beat the system and find yourself the perfect strategy. Just focus on how you're playing the game and making the proper side bets in order to exceed the maximum profit you can in each and every single game you play.
Just sit back and enjoy the game of roulette, the game is a simple concept and the strategy to it is so minor that you shouldn't get so worked up on finding a way to beat the system. You beat the system by not letting it beat you, just make the proper main bets and side bets and watch how long you're able to keep on playing. It is overall a friendlier and better gaming experience.